James E. West Fellowship
If an institution is truely "the lengthened shadow of one man," it is fitting that the Boy Scouts of America honor James E. West's significant contributions to Scouting as its first Chief Scout Executive.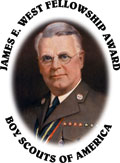 Membership in the West Fellowship is available for gifts of $1,000 or more in cash, stocks or bonds to a council endowment fund. The gift should be in addition to, and not replace or diminish, the donor's annual Friends of Scouting support.
Many individuals and corporations make these gifts on behalf of someone else, such as to honor an Eagle Scout, a Scouter retirement, special accomplishment or anniversary or in memory of another.
Some Boy Scouts of America regions also offer elevated levels of West Fellowship recognition for gifts over the $1,000 minimum.