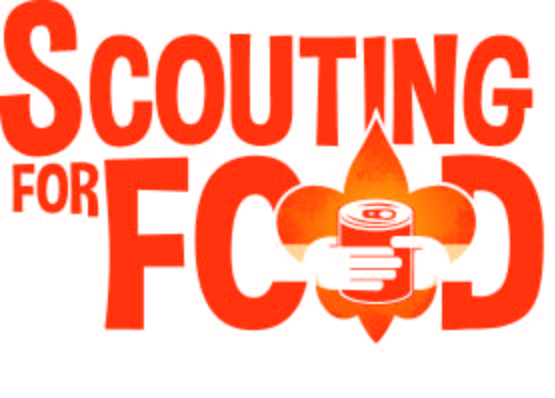 A Good Turn for America
Thank you for participating in the W. D. Boyce Council's Scouting for Food drive. Over 13,000 Scouts in the 14 counties of our council will come together for this two-day service project.
Our Good Turn has a positive impact on our local communities. Food pantries will be stocked for the winter months and Scouts have an opportunity to see how community service and volunteerism make a difference. This is truly an outstanding project.
Scouting for Food is as successful as you make it. Be sure everyone knows your plan and expectations. Work to ensure every home in your community receives a bag and is given the opportunity to donate food. If you are unable to cover your community, contact your Unit Serving Executive right away.
Timeline
Please contact your Peoria or Bloomington Scout Service Center or sign up online.
October Pick up bags. Bags will be available at the October Roundtable Meetings.
October 21-25th Contact a food pantry in your community. Ask them if they would be available November 23rd to receive your donations.
November 16th Distribute bags to homes in your community. If people are not home, leave them a bag on their front door.
November 10 Call your local pantry to confirm that they will be open/available to take your donations on Friday November 23rd.
November 23rd Collect filled bags from homes and deliver them to your local pantry.
Instructions & Guidelines
· All units should communicate their bag distribution and collection plan to all families within the unit.
· All Scouts and Scouters should be in full uniform. The public will be able to identify us, know why you are there, and what you are doing.
· Select a meeting place and time for November 15th & 16th and November 22nd & 23rd - e.g., unit's regular meeting place or other convenient, central location. Be sure everyone is aware of the time and location.
· Remind Scouts and adults the week before Bag Distribution Day and Food Pick-up Day.
· One leader will pick up bags and information flyers during October – more information coming soon!
· Assemble ahead of time. Brief the adults and Scouts, and distribute the bags.
· All Scouts should travel in groups of two or more (the buddy system).
· Have enough vehicles to support the number of Scouts and area covered.
· Scouts should leave the bags on doors. Do not enter the home. Do not put the bags in the mailbox.
· Bags should be distributed to residences only, no businesses.
· Vehicles should stay as close to Scouts as possible. Adults should be on the streets to supervise.
· Do not begin collection before 9 a.m. This allows families time to place food outside.
· Review plans for the day.
· Ask Scouts to cover the same area in which they distributed bags.
· If there is no bag at the door, ring the bell or knock. If there is no answer, go to the next house; do not enter a house.
· While collecting food, keep a simple tally of the number of plastic bags collected containing donated food.
· At the food collection locations, Scouts will unload the food.
· After delivering the food to the local pantry, visit this page to report your Unit's service hours and how much food was collected
PLEASE COVER YOUR TERRITORY BY CAR IN THE EARLY AFTERNOON TO COLLECT BAGS MISSED DURING THE MORNING PICK UP.