Religious Emblem Program
Scout Sunday & Scout Sabbath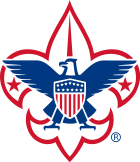 Religious emblem programs enforce the religious principle of the Boy Scouts of America. Duty to God is a fundamental principle of Scouting. The religious emblem programs make every effort to strengthen Scouts in their religious obligations. As Scouts earn their religious award, they become more knowledgeable in their faith and exercise personal growth.
The pendants or emblems are awarded by related religious organizations. They are not a Scouting recognition. Each faith has its own requirements for earning its emblem; most call for religious knowledge and service. Since Scouting is nonsectarian, it espouses no creed and favors no faith over another. Instead, it provides programs and ideals that complement the goals of all religions. More than 47 percent of all Scouting units are chartered to religious organizations.
One unique development that has emerged from the partnership of Scouting with religious organizations is the religious emblems program. The following religions have programs:
Emblems & Awards
Youth Religious Emblem – This knot may be worn by any Scout or Scouter who completed the religious emblem program as a youth member. The actual administration of religious emblem programs is conducted by the Scout's religious organization. The organization then presents the religious emblem upon completion of the program. Units frequently award the recipient with a presentation of the Universal Religious Emblem Square Knot. Only one youth award square knot is worn, no matter how many times the holder earns a second or subsequent religious award as a youth member. For subsequent awards, the Scout wears the appropriate devices on his square knot to indicate multiple awards.
Adult Religious Award – This square knot is worn by those who have received a religious award as an adult member of the BSA. It is not a BSA award, and is presented by religious organizations for long tenure of service to Scouting, the religion, and the community. With one exception, all of these awards require a nomination. (Self-nomination is not allowed.) Only one adult award square knot is worn regardless of how many awards are received.
P.R.A.Y.

It's as easy as 1-2-3!
Attend a presentation on religious emblems

Make a commitment to "Duty to God"

Earn this new patch!
Programs of Religious Activities with Youth (P.R.A.Y.) Announces a Duty to God promotion patch to encourage youth and adults to learn about the religious emblems program. The patch is composed of four segments with one segment offered for each year of the four-year program. To earn the patch, youth and adults are asked to attend or coordinate a presentation or information seminar on religious emblems and to make a commitment to fulfill their "Duty to God."
Adults can commit to having half of their families participate in the program, or they may nominate another adult to be recognized with a religious award or serve as counselors to their local congregations.
Youth can commit to earning a religious emblem or to make the presentation to another unit or help younger Scouts earn their religious awards.
For scripts, patches, and other information, contact P.R.A.Y.
Answers & Information
BSA National Relationships Division
Legal Issues Regarding the BSA and Religion
Local Contacts & More Information
Catholic Church:
Diocese of Peoria Committee on Scouting