Ingersoll Scout Reservation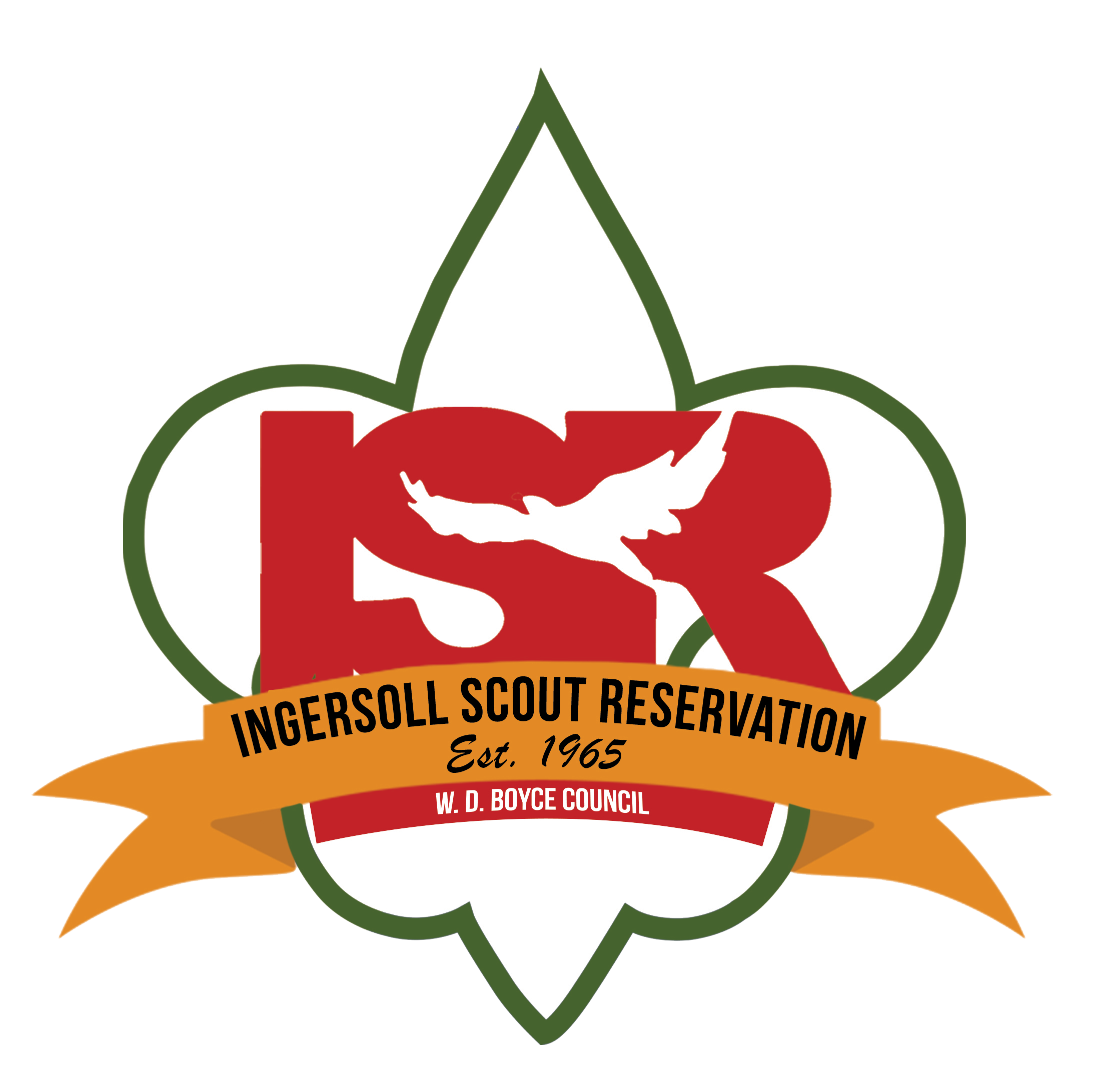 2020 Summer Camp Information
Register your Troop for Scouts BSA Summer Camp at isrsummercamp.org/camp2020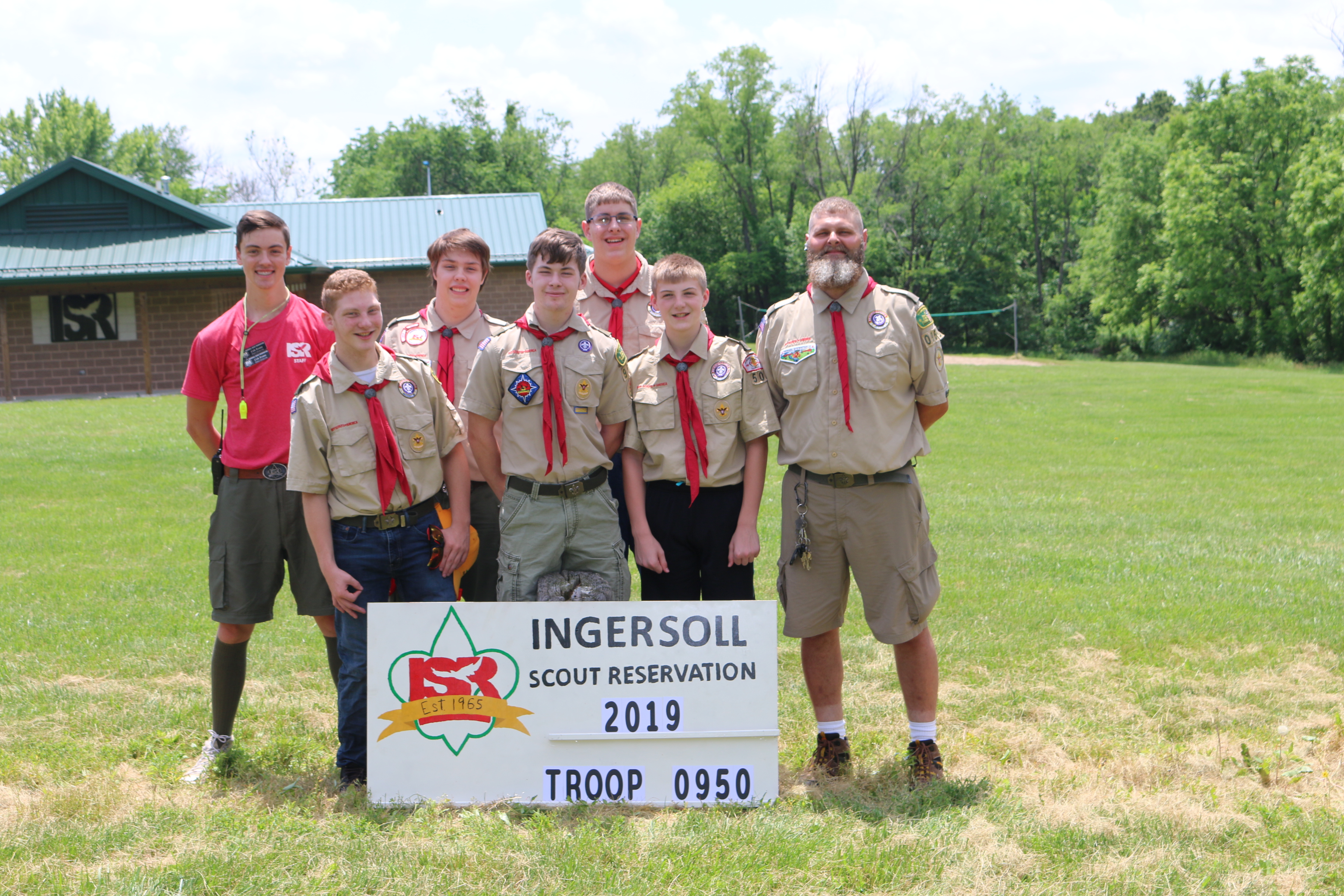 Ingersoll Scout Reservation is the primary resident camp of the W. D. Boyce Council of the Boy Scouts of America. Located west of London Mills, IL, the reservation encompasses almost 1,000 acres of woodland and prairie between Fulton and Know Counties. The Cedar Creek, a tributary of the Spoon River, forms most of the southern boundary of the camp. Initially founded as Wilderness Camp in 1963, the camp was renamed in 1973 to posthumously honor William P. Ingersoll, a local philanthropist who helped in the camp's initial purchase. Find out more about Ingersoll Scout Reservation at isrsummercamp.org
Year-round activities happen at Ingersoll Scout Reservation. One of the main highlights every year is Scouts, BSA Summer Camp. This week-long adventure occurs during adventure-filled weeks from June though July. Scouts can earn merit badges or complete requirements for their ranks, kayak down the Cedar Creek, or cool off in the pool. For those who like high adventure, we offer a 50 ft. climbing tower, C.O.P.E. course, and our famous Outpost Programs. At Ingersoll Scout Reservation, we strive to provide a total summer camp experience in the outdoors.
2020 Climbing & Shooting Weekends
Come to ISR to climb, shoot, or do both! Six Climbing and Shooting Weekends planned for 2020. Climb the 50 foot climbing tower, ride the zipline, shoot rifles and shotguns! While you are out at Ingersoll, campout and enjoy the rest of the camp! To register fill out the Application to use Climbing Tower, Shooting Ranges, and a Camp Use Form and send them to the Peoria Scout Service Center.
2020 Climbing and Shooting Dates: April 25, May 16, August 22, October 17
Reservations for Climbing and Shooting Weekends must be made 14 days prior to the event in order to be approved
It is required for participation in Climbing & Shooting Weekends all youth and adults must bring a completed Annual Health and Medical Record (Part A & B) to ISR and present it to the Instructors. Part A - Informed Consent, Release Agreement, and Authorization will be kept and Part B will be returned.
Activities for Ingersoll Weekend Campers
Scout troops will be able to rent the camp's mountain bikes for weekend trail riding. Participants must have a current BSA medical form part A, B and watch a safety video before coming to camp. Bikes will be available from 8:30am until 30 minutes before sunset. Cost is $100 for 15 bikes. Contact Austin.St.George@scouting.org
Troops or packs also can participate in the Ingersoll Geocache Course. See if your group can locate all 10 hidden items spread throughout the whole camp. Preprogrammed GPS units are available for rent through a CUF. We recommend one unit for ever 5-7 scouts. Contact Austin.St.George@scouting.org for questions or reservations or mark "GPS units" on your camp use form.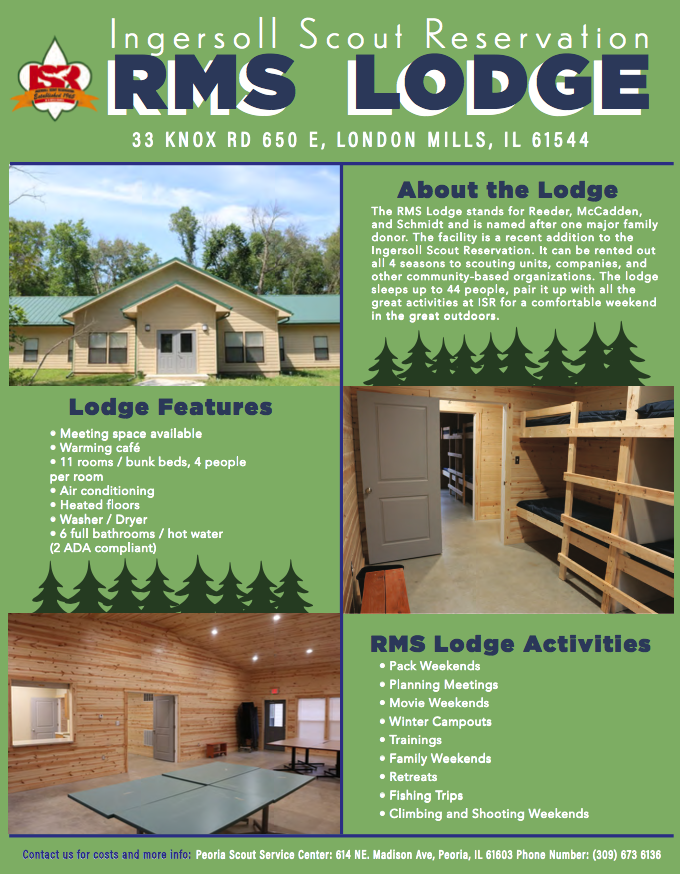 Fall-Winter-Spring ISR Camp Information
Annual Health and Medical Record
Ingersoll Scout Reservation (ISR) is a complete service camp of the W. D. Boyce Council. Since 1965, ISR has been providing quality and memorable outdoor experiences for youth and adults alike.
Ingersoll Scout Reservation Address
33 Knox Road, 650 E
London Mills, IL 61544
Camp Phone Number - 309 486-3398
Camp Fax Number - 309 486-3778