The Scouts CAN Program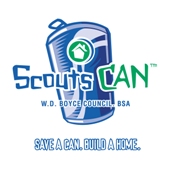 The W. D. Boyce Council, Boy Scouts of America and Habitat for Humanity teamed up to collect 3.5 million aluminum cans. The money raised - over $50,000 - has built one full house for Habitat for Humanity while supplying several other homes with funds to complete their builds.
In the process, we have established a sustainable community recycling program that will continue to raise funds for future Habitat for Humanity homes.
Earn the Scouts CAN patch! - We are still collecting for ScoutsCAN!
Collect 350 cans - First Patch
Take the cans a local recycling company
Fill out the

patch request form

& drop it in the mail along with the money raised (see details below, under "drop off locations")

We'll send your ScoutsCAN! patch to your Unit Leader.
What can you do to help Scouts CAN?
You could sponsor a ScoutsCAN! recycling bin at your workplace, school, or church.
Sound like a lot of work? You could always make a financial contribution to the council to help offset program expenses.
Drop Off Locations
Peoria - A Miller - 1612 SW Adams
Pekin - Midland Davis - 14379 Rt. 29 S
Bloomington - Morris Tick - 501 E Stewart St.
If you take cans to another location, they will give you cash which you can send in to:
Attn: Scouts CAN
614 NE Madison Ave.
Peoria, IL 61603