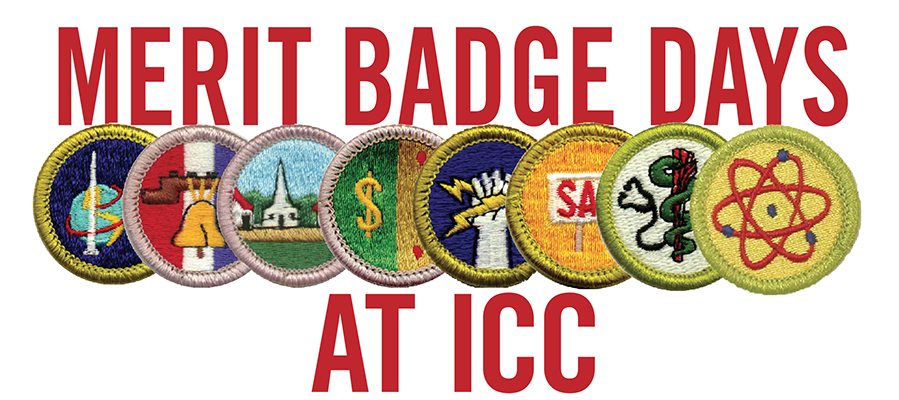 Merit Badge Days offer 2 Merit Badges every month from July-October at Illinois Central College from 10am-4pm. Scouts will need to bring their own Blue Cards and lunch. Some courses may have pre or post requirements. Space is limited so be sure to register early!
**These classes are only available to Boy Scouts in the W. D. Boyce Council
Classes will be held at ICC in East Peoria Academic Building, Rooms 224-A & 225-A
Program is conducted by a certified Merit Badge Counselor.
Scouts should make sure to print out the Merit Badge workbook and bring it with them to their class.
Unit leaders must approve Blue Cards before Scout attends the class
Cost: Early Bird (register 1 week before event): $15 per person
Regular cost: $20 per person
Click on the Merit Badge below to register online and to find more information:
| | | | |
| --- | --- | --- | --- |
| July 16th | August 13th | September 10th | October 1st |
| | | | |
* Indicates Super Nova award eligible badge
Click here to download the flier
Directions:
Map of floor 2 Academic Building
Pre-requisites for the Merit Badges:
Medicine
10. Serve as a volunteer at a health-related event or facility in your community (e.g. blood drive, "health fair", blood pressure screening, etc.) approved by your counselor.
Personal Management
Merit Badge Counselor: Phil Spengler
Questions: pjspengler@sbcglobal.net
2a. Prepare a budget reflecting your expected income (allowance, gifts, wages), expenses, and savings. Track and record your actual income, expenses, and savings for 13 consecutive weeks. (You may use the forms provided in this pamphlet, devise your own, or use a computer generated version). When complete, present the records showing the results to your merit badge counselor.
2b. Compare expected income with expected expenses.
1. If expenses exceed income, determine steps to balance your budget
2. If income exceeds expenses, state how you would use the excess money
5. Select five publicly traded stocks. Explain to your merit badge counselor the importance of the following information for each stock:
A. Current price
B. How much the price changed from the previous day
C. The 52-week high and the 52-week low prices
8. Demonstrate to your merit badge counselor your understanding of time management by doing the following:
A. Write a "to do" list of tasks or activities, such as homework assignments, chores, and personal projects, that must be done in the coming week. List these in order of importance to you.
B. Make a seven-day calendar or schedule. Put in your set activities, such as school classes, sports practices or games, jobs or chores, and/or Scout or church or club meetings, then plan when you will do all the tasks from your "to do" list between your set activities.
C. Follow the one-week schedule you planned. Keep a daily diary or journal during each of the seven days of this week's activities, writing down when you completed each of the tasks on your "to do" list compared to when you scheduled them.
D. Review your "to do" list, one-week schedule, and diary/journal to understand when your schedule worked and when it did not work. With your merit badge counselor, discuss and understand what you learned from this requirement and what you might do differently the next time.
10a. Choose a career you might want to enter after high school or college graduation
10b. Research the limitations of your anticipated career and be prepared to discuss with your counselor what you have learned about qualifications such as education, skills, and experience.
Electricity
9a. Read an electric meter and, using your family's electric bill, determine the energy cost from the meter readings.
Citizenship in the Community
Merit Badge Counselor: Wendy Rixstine
Questions: wrixst5@gmail.com or 309-264-2432
5. With your parent's approval, watch a movie at home from the list below. Come to Merit Badge Day prepared to discuss what you learned about being a valuable and concerned member of the community.
*If you prefer a movie not on this list, scouts may contact the Counselor for pre-approval before August 10th.
Mr. Smith Goes to Washington

Follow me, Boys

It's a Wonderful Life

We are Marshall

Radio

The Blind Side

Remember the Titans

Oktober Sky
7b. Research ONE local charitable organization using a variety of resources and find out more about it.
7c. Contact the organization to find out what young people can do to help or volunteer. Be prepared to discuss what you learned.
Requires 8 hours of volunteer's time. We will complete one hour during the class but another 7 hours of volunteer time must be completed on your own either before or after the class. If you choose to complete the volunteer hours PRIOR to the class, Scouts must contact counselor for pre-approval before August 10th. Prior approval is required, along with a signed note of your completed hours by the supervising adult you worked under. If you choose to complete volunteer hours AFTER the class, emailing verification of this requirement will still permit you to complete the badge with this counselor.
8. We will work on this in teams during the Merit Badge Day, but each Scout should do a little research at home and bring with them some written information about their community, including history, popular places, challenges facing the community, etc. We will present complied information during our time together.
Energy
Merit Badge Counselor: Katie Birkel
Questions: Katie.Birkel@gmail.com
1a. Find an article on the use or conservation of energy. Discuss with your counselor what in the article was interesting to you, the questions it raises, and what ideas it addresses that you do not understand.
4. Conduct an energy audit of your home. Keep a 14 day log that records whats you and your family did to reduce energy use. Include the following your report and, after the 14 day period, discuss what you have learned with your counselor.
4a. List the types of energy used in your home such as electricity, wood, oil, liquid petroleum, natural gas, and tell how each is delivered and measured, and the current cost; OR record the transportation fuel used, miles driven, miles per gallon, and trips using your family car or another vehicle.
4b. Describe ways you and your family can use energy resources more wisely. In preparing your discussion, consider the energy required for the things you do and use on a daily basis (cooking, showering, using lights, driving, watching TV, and using the computer). Explain what is meant by sustainable energy sources. Explain how you can change your energy and use through reuse and recycling.
Citizenship in the World
Merit Badge Counselor: Phil Oelkers
Questions: p_oelkers@netzero.com
Pre-requisites
1. 3a - Pick a current world event. In relation to this current event, discuss with your counselor how a country's national interest, history, and its relationship with other countries might affect areas such as its security, its economy, its values, and the health of its citizens.
The event to be researched is "Reclamation at the Scarborough Shoal in the South China Sea". Some articles to get you started …
http://www.cnn.com/2016/05/10/politics/us-china-destroyer-sails-by-disputed-island/
http://www.nytimes.com/interactive/2015/07/30/world/asia/what-china-has-been-building-in-the-south-china-sea.html?_r=0
Why is China spending so much time, effort and money to build a new island in the middle of the Pacific Ocean?
2. 3b - Select a foreign country and discuss with your counselor how its geography, natural resources, and climate influence its economy and its global partnerships with other countries.
Country – Taiwan
3. 4c - Select TWO of the following organizations and describe their role in the world.
Organizations are (a) World Court, (b) European Union
4. 7a - Visit the website of the U.S. State Department. Learn more about an issue you find interesting that is discussed on this website
7b - Visit the website of an international news organization or foreign government, OR examine a foreign newspaper available at your local library, bookstore, or newsstand. Find a news story about a human right realized in the United States that is not recognized in another country
Have a fully completed 'blue card' ready.
The prerequisites should be written, preferably printed out but neat handwriting is acceptable. They do not need to be college or even high school term papers but spelling, complete sentences and paragraphs are important. I would expect at least one paragraph about each of the prerequisites, more if needed.
A paragraph typically has five sentences, an introduction, details and a conclusion or transition.
Work needs to be clearly labeled with scout's name and which requirement it is.
Salesmanship
Do ONE of the following and keep a record (cost sheet). Use the sales techniques you have learned, and share your experience with your counselor.
5a. Help your unit raise funds through sales either of merchandise or of tickets to a Scout event.
5b. Sell your services such as lawn raking or mowing, pet watching, dog walking, snow shoveling, and car washing to your neighbors. Follow up after the service has been completed and determine the customer's satisfaction.
5c. Earn money through retail selling.
Investigate and report on career opportunities in sales, then do the following:
7a. Prepare a written statement of your qualifications and experience. Include relevant classes you have taken in school and merit badges you have earned.
7b. Discuss with your counselor what education, experience, or training you should obtain so you are prepared to serve in that position.
Space Exploration
Please note time change: Class will begin at 10:30 a.m. NOT 10:00 a.m.
Also, in addition please bring "two" 2 Liter empty and clean soda bottles with you to class.
We will also be launching provided rockets @ 3:00 p.m. which your parents are welcome to attend.

Prerequisites needed for this merit badge to be completed are the following:
1. Tell the purpose of space exploration and include the following:
a. Historical reasons
b. Immediate goals in terms of specific knowledge
c. Benefits related to Earth resources, technology, and new products.
d. International relations and cooperation
2. Identify and explain the following rocket parts:
a. Body tube
b. Engine mount
c. Fins
d. Igniter
e. Launch lug
f. Nose cone
g. Payload
h. Recovery system
i. Rocket engine
3. Discuss and demonstrate each of the following:
a. The law of action-reaction.
b. How rocket engines work
c. How satellites stay in orbit
d. How satellite pictures of Earth and pictures of other planets are made and transmitted.
4. Do EITHER of the following:
a. Discuss with your counselor a robotic space exploration mission and a historic crewed mission. Tell about each mission's major discoveries, its importance, and what was learned from it about the planets, moons, or regions of space explored.
b. Using magazine photographs, news clippings, and electronic articles (such as from the Internet), make a scrapbook about a current planetary mission.
5. Describe the purpose and operation of ONE of the following:
a. Space shuttle or any other crewed orbital vehicle, whether government owned (U.S. or foreign) or commercial
b. International Space Station

xxxx
7. Discuss with your counselor two possible careers in space exploration that interest you. Find out the qualifications, education, and preparation required and discuss the major responsibilities of those positions.
Merit Badge Counselor: Carl Henderickson
Questions: cbhend@earthlink.net