W. D. Boyce Scout Shop
614 NE Madison Ave. Peoria, IL 61603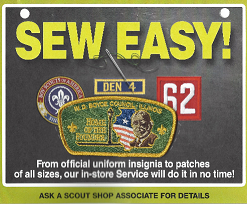 The Scout Shop is looking for someone with scouting knowledge and sewing
experience to work a few hours a week. Please see Scout Shop for details!
Monday- Wednesday and Friday 10:00 am - 6:00 pm
Closed Thursday
Closed for Meal Break 2:00 - 2:30
Saturday 9:00 am -1:00 pm
Closed Sunday
Ordering Information: (309) 497-1327
Check out the online catalog at ScoutShop.org
Some supplies are limited and selection varies online and at national Scout Shops.
Email: wdboycescoutshop@scouting.org
Nancy Bosch, Scout Shop Manager
Chase and Charlie, Sales Associates